Introduction
Edit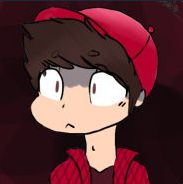 Dstuff is the founder of the Newb Crew, and a part of the
Original Newb Crew
along with
John
,
JJ
,
Aydin
,
Newfie
.
Dstuff started uploading videos in 2011, starting with a series called "Frank Talk" where he sat in front of the camera and spit out cringe for a few minutes. He rebooted "Frank Talk" in 2015 on his channel Partisode with the first episode talking about Fallout 4 DLC. With the reboot his voice changed to a New York-like accent for the character.
After many Frank Talks, and other cringey shit, Dstuff decided to make a gaming channel. It's around this time he met John on skype. He then formed The Newb Crew and uploaded frequent gaming videos on his gaming channel. After a while, he wasn't feeling it anymore, and of course, decided to make a new channel yet again called Partisode. He posts infrequently on this channel, but generally Streamtubes. He has a secondary channel called Zyrconium where he upload a series called Daft Delvers, where he streams/records Role-Play sessions with friends.
Dstuff is so bad at games because of a brain aneurysm he suffered through from eating chalk. He also has more channels than Onision which makes him a terrible person.
Channels
Edit
Unused/Defunct
Dstuffcentral (2010) (unused, defunct)
Dstuffhub (2011) (unused, defunct)
Dstuffnews (2011) (unused, defunct)
thedstuff (2011) (unused, defunct)
Old Partisode (2013) (unused, defunct)
Unused
F8talGam3r (2011) (unused)
dstuffvlogz (2012) (unused)
Dstuff (2013) (unused)
Old
DstuffCentral2 (2010-2011)
DstuffGames (2012-2015)
DstuffVlogz (2013)
DstuffHD (2013)
Current
dstuffx (2011) (unused)
Zyrconium (2014+)
Partisode (2015+)
Ad blocker interference detected!
Wikia is a free-to-use site that makes money from advertising. We have a modified experience for viewers using ad blockers

Wikia is not accessible if you've made further modifications. Remove the custom ad blocker rule(s) and the page will load as expected.